A loop is a quasigroup with an identity element e such that:
x * e = x = e * x for all x in Q.
It follows that the identity element e is unique, and that every element of Q has a unique left and right inverse.
I think we can all agree on this.
Well, on the topic of loops, I've been doing a great deal of them lately. And not just quasigroups, either; full, red-blooded loops.
Last weekend started with the Seward Triathlon, and ended with a non loop (not even a quasigroup) bike ride to Homer. I had never done the ride before, and there was a great group of people going, so I decided to try it out. We began at the early hour of 7:30 from Soldotna. The forecast was for scattered showers, and we had support vehicles with some people choosing to take turns driving for some parts of the journey.
Nearly 77 hilly miles and four hours later, we rolled into Homer, gorged on excellent pizza, and drove back just as the rains hit. Timing is everything.
The next day, a Monday, the tri group braved the wilds of lower Tsalteshi to experience the wonder of loops firsthand. We ran around the whole Wolverine Trail, then did repeats on the shorter loop. The trails were still quite muddy. Our homework assignment then featured a hill repeat on the Old Bear Trail, which happened to be an absolute quagmire of mud. Seeing something incrementally less saturated, we went to New Bear Trail (also called "Bear Trail") and started up. I wondered why my compatriots were stopped beneath me on the hill and pointing until I saw I had run right past a moose, who seemed content enough with grazing to not give me the stomping of a lifetime. We crept back into the spaghetti bowl where the trails meet, and tried another hill. This, too, was moosey. We ended up jogging back with a new respect for woodland creatures.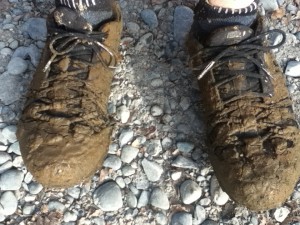 Wednesday found us again aloop. This time the loop in question had specific icthyological roots. Our planned rendezvous was at the parking lot by Cohoe Loop, in Kasilof. We met and the wind decided to join us, blowing hard out of the East. We started riding South on the highway, the wind doing its best to blow us into the ditch. When we made the turn East, we flew. The gorgeous rolling hills flew by underneath Celeste, and there was nary a car in sight. After making the turn to make our way Westward, progress slowed to a crawl with the fierce headwinds. Progress was further diminshed by the road conditions, which, though paved, were remniscent of the surface of the Moon. Downshifting radically, I tried to keep my cadence up and shoulders low. It was great streamlining practice.
My goal was an hour for the 18.2 mile loop. I made it in just under that, so that wasn't too bad.
Friday saw us being hit with a brick. A swim / bike brick, the same distances and route as the first two disciplines of the Tri the Kenai; a 500 yard swim and 10.1 mile bike. This would be a great time on testing my times to see if I was in the ballpark of my goals. Such was not the case, as I suffered from Hitting-the-Wrong-Stopwatch-Button-itis, and screwed up my swim time. It felt good, though, and I had a quickish transition outside to my bike, where I began recording (correctly, I might add) the course from Skyview to Echo Lake Road. This was another road I had never explored, but was fun, hilly, challenging, and thankfully not crowded. The hills at the beginning forced me to a nearly crawling speed, but the later long downhills made up for it. I finished in a respectable 32 minutes. My race day goal is under 30, which should be achievable. I did do some lightweight jogging after the brick, just to simulate (briefly) raceday fun.
So, I'm happy to report that x * e = x = e * x for all x in Q.